Amazon Innovation Awards Top 20 to Successful CLIK S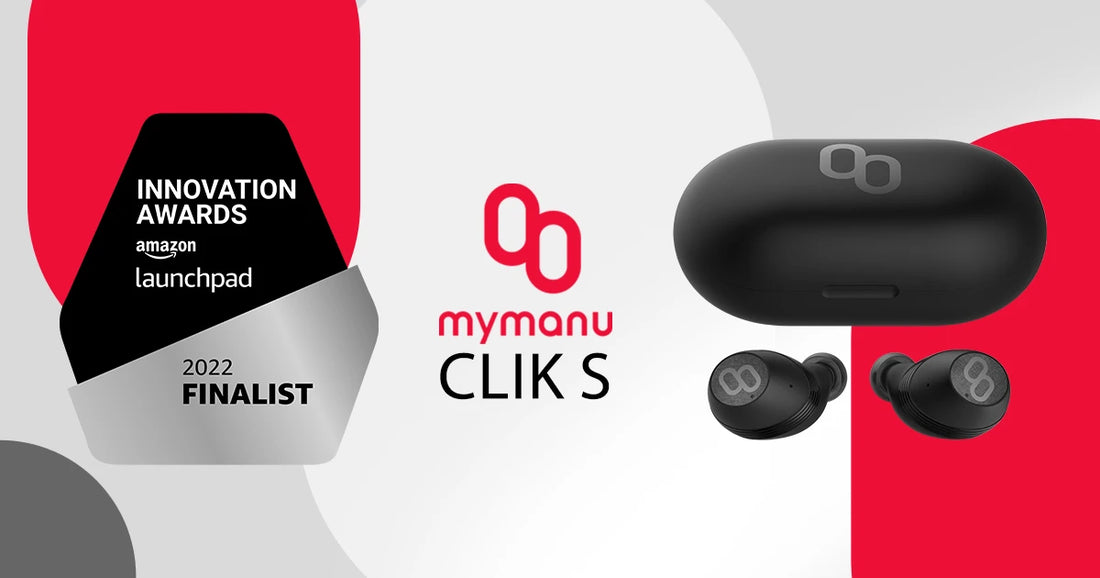 We are so excited to announce that our translation earbuds, Mymanu Clik S, has been selected as the TOP 20 finalists of the Amazon Launchpad Innovation Awards.
The Amazon Launchpad Innovation Awards are a free competition designed to support emerging European startups. This year, around 2,200 businesses across Europe and the UK competed this year. Finalists have been selected by Amazon judges and a panel of five industry experts.
To us, this is not just another trophy. This is the seal of approval from Amazon – a leader in innovation – that Mymanu Clik S is innovative, and it will have a huge impact in breaking down the language barriers to build a better world 😊 We are so HAPPY!
Language Barrier Experience
The inspiration behind Mymanu Clik S is the lived experience from Danny Manu, CEH Technologies founders, who found himself confronted to language barriers when he attended workshops and conferences in Germany several years ago. No human interpreters were there to support attendees.
"Being raised in Ghana where more than 80 languages are spoken, I know too well the issues that not speaking a common language can create. I never expected it during these international conferences", said Danny. This situation left delegates feeling excluded and dissatisfied. "So I challenged myself to develop something technical that could help overcome this issue".
It took then few years for Danny to carry out some research in his spare time. In 2017, he produced the World's first truly wireless earbuds with live voice translation, Mymanu Clik +, and in 2021 released its second version, Mymanu Clik S.
Innovation Awards for its technical prowess
Mymanu Clik S is very versatile.
Fitness enthusiasts love its waterproof and HD sound capabilities as well as its super comfortable eartips and 30-hour battery life which help them push their boundaries when exercising.
Travelers and businesspeople love the fact they can speak and write in 37 languages at the "clik" of a button. Powered by MyJuno, Mymanu's own proprietary translation App, users can easily ask local people on the street for directions or negotiate contracts remotely wherever they are in the world.
"By breaking down language barriers, AI translation enables people and organisations to reach out to a wider community. From teaching new skills to deprived communities, sharing best practices with international colleagues to develop skills faster, and discovering new cultures to understand people better, this can have such a positive impact on communities globally", says Danny.
International awards to boost International success
With people exploring again the world, Mymanu Clik S has found homes online with many reputable retailers across Europe and the US such as Menkind, Best Buy, Stackcommerce or Unbeatable Sales. This Summer, Mymanu Clik S also found its first physical home at The Latest Store on the German Champs-Elysée in Berlin.
Danny adds: "More retailers are currently listing Mymanu Clik S in preparation for Black Friday, Cyber Monday and Christmas sales. The Amazon Launchpad Innovation Awards demonstrate how innovative our product is and will help us reach our ultimate goal to build a better and more inclusive world without language barriers."