Mymanu Unveils Mymanu LINK: The Ultimate in Bluetooth Audio for Anyone On The Go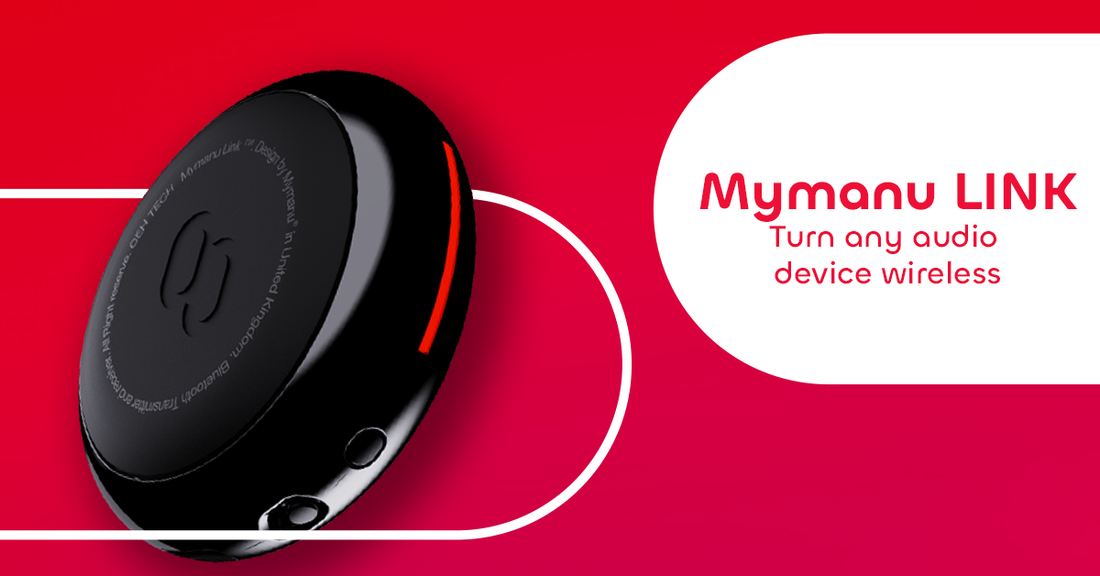 Mymanu has unveiled the latest addition to its line-up of innovative tech products; Mymanu LINK just in time for the holidays. The latest advancement in the brand's range of audio equipment, LINK has been specially designed to improve the audio experiences for travelers, gamers, gym goers and anyone searching for the best sound quality while lacking Bluetooth connectivity.
Perfect for those travelling during Thanksgiving and over the holidays, it's utterly convenient, clever in its simplicity and indispensable for modern life. Mymanu LINK acts as a Bluetooth transmitter and receiver, allowing customers to connect their wireless headphones to any device that has an audio jack – like an airplane, treadmills, or desktop computer. The device is simple yet powerful and designed to level-up sound quality when streaming in the car, gym, airplane, or bedroom. Alternatively, it can be used to allow two people to listen to the same movie, music, or video game simultaneously.
Whether sat on a plane trying to watch the latest blockbuster movie, turning up a playlist to kickstart a long road trip home for the holidays, or plugging in for an intense gaming session, audio connectivity can easily make or break the entire experience. Mymanu LINK is the cutting-edge answer for superior sound quality, paired with unparalleled convenience and versatility.
Mymanu LINK was inspired by the very real demand from customers, who enjoyed using their Mymanu wireless headphones but needed a solution for those times when connecting via Bluetooth wasn't an option. Standout features include:
20-hour battery life to see customers through long-haul flights and lengthy cross-country or interstate road trips.
A range of 10 meters (33 feet) for ease of movement without being restrained by cords.
Easy to connect to any 3.5mm audio jack, whether that's at the gym, gaming at home, or on a train, subway, bus or plane.
Audio streaming and navigation made simple even in cars without Bluetooth.
"Although our existing products provide customers with exceptional sound quality, we knew that there was a still a large portion of the market that weren't able to benefit from our technology," says Danny Manu, CEO of CEH Technologies. "For anyone flying, pursuing their van life dream, or gaming with friends, we wanted to create a bridge to fill the gaps in audio experiences. No matter who you are or what you're doing, Mymanu LINK is the ultimate cord-free solution to a very common issue for our customers. There are countless use cases for this product, and we can't wait to see how our customers put them to use in their day-to-day lives."
An ideal gift for the holidays and perfect as a Black Friday or Cyber Monday treat, LINK is the ideal audio companion to bring on-the-go.
Mymanu LINK will be available to purchase from November 09, 2023 via the Mymanu website, or in-store at one of their global retail partners. LINK is priced at $39.99 until December 15th. RRP $49.99.
To find out more about Mymanu products, visit: https://mymanu.com 
About
CEH Technologies is an innovative manufacturer and designer of smart consumer electronics that enrich people's experience through the power of sound. Under the Mymanu brand, we've combined our passion for innovation, music, and technology to develop unique and truly wireless solutions with the finest sound quality that will empower people to celebrate and create new experiences whilst connecting with others. At Mymanu we strive to maintain an exceptionally strong commitment to research to transform yesterday's fiction into tomorrow's reality.