Mymanu CLIK S Translation Earbuds to Revolutionise Travel Experience at InMotion Stores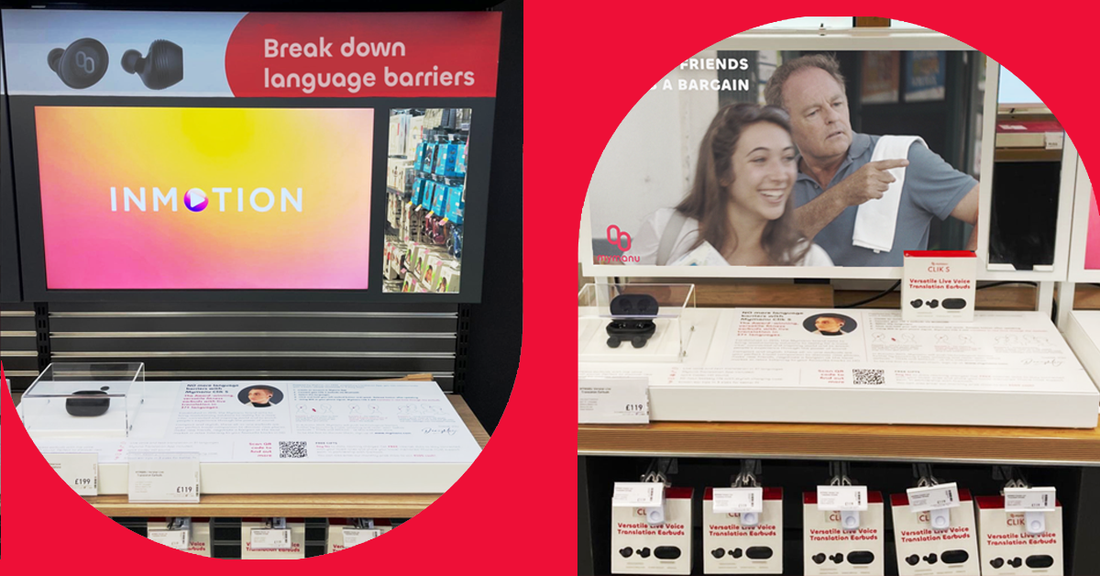 CEH Technologies Ltd's Mymanu brand takes centre stage at InMotion's busiest airport stores with the launch of MYMANU CLIK S, the ultimate truly wireless translation earbuds. Designed to break down language barriers, CLIK S empowers travellers to explore new cultures and places worldwide, facilitating communication with over 2.5 billion people across 37 languages, with more to come.
The CLIK S earbuds from Mymanu are not just for globetrotters; they are also the perfect companion for adventure enthusiasts who engage in cycling, hiking, or fitness classes. Boasting secure-fit ear tips and sweatproof technology, these earbuds provide a seamless experience during high-intensity activities. With their remarkable HD sound capability, CLIK S elevates the energy level, while the built-in passive-noise cancellation feature ensures users' safety by keeping them aware of their surroundings, especially while cycling on busy streets.
InMotion, a subsidiary of WHSmith, is North America's premier digital accessories retailer with 117 stores across 43 airports. With an impressive presence in nine of the top 10 and 22 of the top 25 busiest air gateways, InMotion offers travellers unparalleled access to this groundbreaking travel technology. In 2021, WHSmith secured contracts to operate 18 technology stores in the UK's largest airports, including London Heathrow, Manchester, Gatwick and East Midlands, where CLIK S earbuds are now available for purchase. InMotion's projected annual sales of approximately £60 million ($83 million) at UK airports reflect the soaring demand for travel tech and consumer electronics.
Danny Manu, CEO of CEH Technologies Ltd, shares his enthusiasm for the partnership, adding: "We are thrilled that InMotion has selected our product to be showcased in their flagship stores. This collaboration is a momentous milestone for our business as we connect with the incredible travel community that MYMANU CLIK S was designed for. By breaking down language barriers, Clik S earbuds not only enhance people's vacations, enabling them to uncover hidden gems and flavours while saving money, but they also promote cultural understanding, embrace diversity, and foster global unity."
Mymanu's CLIK S translation earbuds are now available at select InMotion stores, revolutionizing the way we explore, communicate, and connect with the world.
For media inquiries, please contact:
Rodolphe Soulard Marketing Manager press@mymanu.com
About
CEH Technologies is the parent company of Mymanu, an innovative manufacturer and designer of smart consumer electronics that enrich people's experience through the power of sound. We've combined our passion for innovation, music, and technology to develop unique and truly wireless solutions with the finest sound quality that will empower people to celebrate and create new experiences whilst connecting with others. At Mymanu® we strive to maintain an exceptionally strong commitment to research to transform yesterday's fiction into tomorrow's reality.